Welcome to Dave Fergusson's House Clearance Bournemouth
"House Clearance and rubbish disposal professionals with over 50 years experience in the industry"
Contact us on 01202 421814 or 07951206264 for a quote!
House clearance Bournemouth has been clearing property contents and removing rubbish throughout Dorset & all along the south coast since the 1960's. Our clients include local councils, housing associations, leading estate agents, solicitors and private clients looking to clear unwanted items.  With having such experience in the business we are able to provide accurate quotations, valuations and provide an excellent service which is reflected in our reviews.
Please see our services below, they include full or partial house clearance's, rubbish removal and single item removal. There's nothing we haven't been able to clear. All clearances undertaken are carried out by fully insured and trained members of staff. We pride ourselves on providing a hassle free service, so get in contact today to book a free no-obligation quote.
Please check out our reviews on our Checkatrade page - Click Here
Office Clearance
We can take the stress out of clearing your office. Whether you are moving premises or just have unwanted office furniture (desks, filing cabinets etc.), we are more than happy to remove any unwanted items. Please contact us to find out how we can help you.
Shed Clearance
Sheds are usually places that we store items that are not often used or no longer wanted. We can clear your shed of any unwanted items to clear up space for you. We can also remove the shed too! Contact us now for a free quote.
---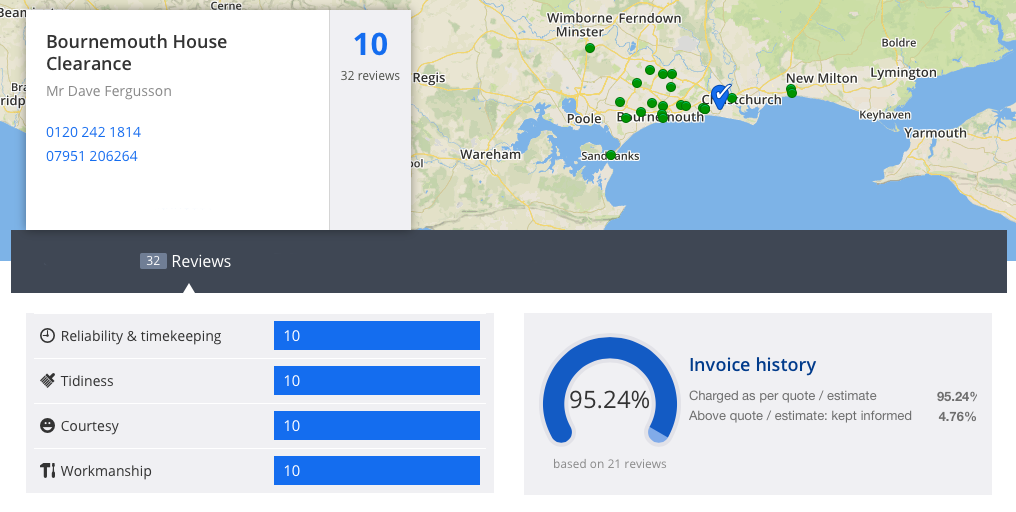 House Clearance Bournemouth buy quality items
In addition to our other services we also have shops in London, East Sussex, Bournemouth and Highcliffe where we buy and sell clean, good quality furniture, effects, antiques and collectibles.
House Clearance Bournemouth are constantly looking to buy new stock to keep our shops full of affordable second-hand furniture; so please do not hesitate to contact us if you are looking for a special piece or have an item to sell.
The price we give for your items will be based on current market conditions and past auction/sale prices. With having such experience and contacts in the industry you can guarantee on us giving you the best price for your items. Here at house clearance Bournemouth we will never let you down. You can rely on us to help you with anything when it comes to rubbish removal and clearing homes. We promise to give you the best possible service.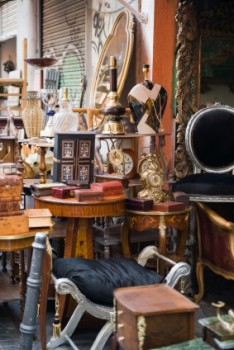 We only use Recyling Centres
As a waste removal company we feel it is our duty to be as green as possible. Rest assure any item that can be reused, recycled or donated will be. If you wish not pay for disposing of your rubbish we recommend you can take it to Millhams Community Recycling Centre or Christchurch Household Recycling Centre.
Rogue Traders
We hate rogue traders and cowboys. We would never recommend just using any body to dispose of your waste. We always see people posting on Facebook for rubbish removal quotes and getting any body with a van thinking they can make a quick buck transporting rubbish to the tip. You don't want your rubbish being burnt or fly tipped as it can have serious implications for the owner of the rubbish.
To ensure your safety always make sure you see a waste carriers license upper tier 2. This license allows people to carry waste other than their own and more importantly being able to dispose of it legally. The only way to legally depose of waste is using commercial waste facilities. These waste facilities will need to see a waste carriers license. House Clearance Bournemouth opts to only use facilities that aim to recycle most of their waste.
Most of the time these men with vans will relies they can get rid of the waste they have collected. There only options are to return the waste of dispose of it illegally. Both options will cause you a lot of hassle. You can rest assure House Clearance Bournemouth will dispose of your waste in the most legal and green way. You are able to check waste carrier licences here.